Location
Location of villa Bahagia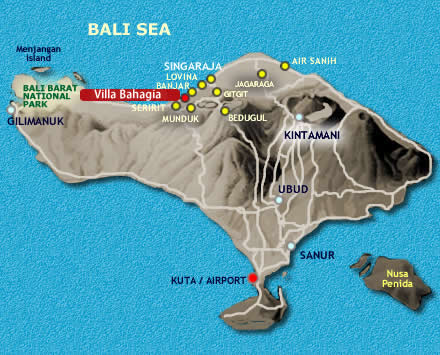 The location of VILLA BAHAGIA is right on the beach and facing north overlooking the Bali sea, located west of Lovina and ten minutes from the villages of Kaliasem and Kalibukbuk, the tourist centre of north Bali.
This spectacular location is fringed to the south by mountains falling
into rice fields, grape and mango plantations ,temples and villages unchanged with time.
Jungle exploring with waterfalls and deep lakes, once active volcanoes fringe north Bali and many tours are available, including some of the best dive reefs in Asia with snorkeling, scuba diving and four wheel driving in Balis largest national park just a short drive away,
You can discover what we call old Bali with it's time suspended traditions,culture and dance.
Everywhere you go in the north you are followed by the sound of the bamboo xylophone and courteous yet shy Balinese who are a joy to be with if you show them you care.
There is easy access to ATM facilities in all villages as well as many small wrongs and restaurants to tempt your taste buds.
In Lovina and Singaraja to the east,which was originally the capital of Bali you will find a selection of shops fully stocked with nearly everything you find at home but at a fraction of the price.
Bali stores such as Hardys pride themselves in catering for absolutely everything and nowhere else will you receive the attention and courteous service these excellent facilities provide.
Many restaurants will send a car to bring you to their restaurants and take you home again at no charge.
---
Share this Villa Bahagia location page at: